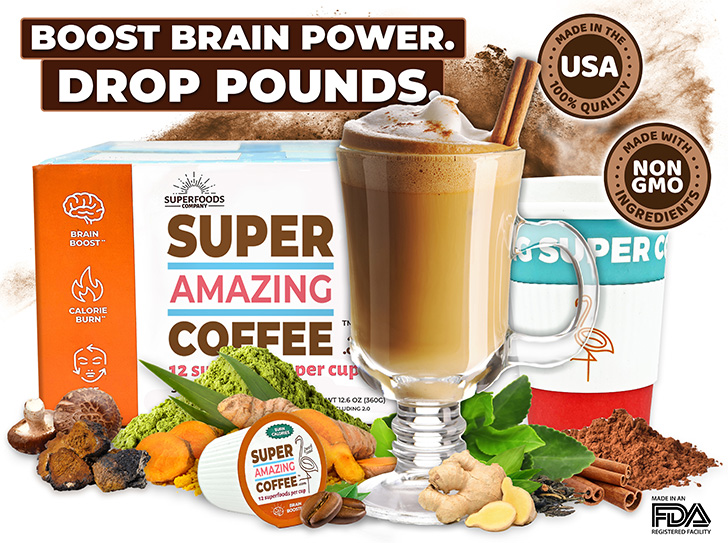 Super Amazing




Coffee

™
4.7 Rating | 6,148 Votes
12 plant-based superfoods in a delicious, french-roast coffee!
Beat Brain Fog

Control Cravings

Drop Pant-Sizes!
12 Superfoods In Every Tasty Cup With Amazing Health Benefits!

"I'm down 3 pant-sizes!"
5.0/ 5.0
Tina R. VERIFIED
Super Amazing Coffee - Kickstart Plan
I'm hooked on Super Amazing Coffee! I brew a pod every morning with my husband. We love to add the creamer too. I feel so alert all day, ready to take on challenges. It's helped me control my cravings, and the superfood benefits are incredible. I'm down 3 pant-sizes and feeling better than ever!
Easy To Use! Here's How It Works:

Step 1
Grab one single serve pod or a full scoop of Super Amazing Coffee. If you have the scoop then add hot water, otherwise, just brew.
Step 2
Drink daily to shed pounds and boost brain power with 12 natural superfoods in every cup of Super Amazing Coffee. Packed with ingredients like cordyceps, turmeric, maca root and matcha.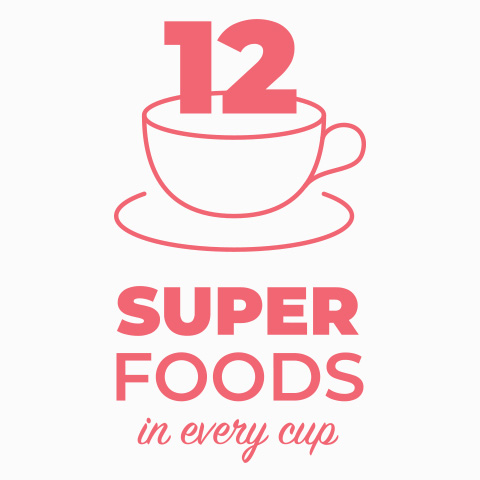 Step 3
Make it a daily routine. It's so convenient! Get all the natural benefits of 12 amazing superfoods in your morning coffee. Customers enjoy drinking it hot or iced!
Men & Women Love Super Amazing Coffee!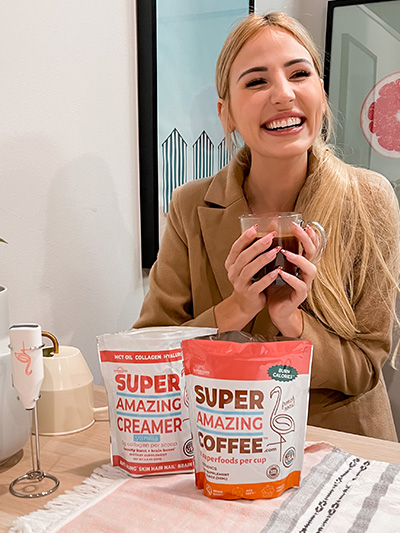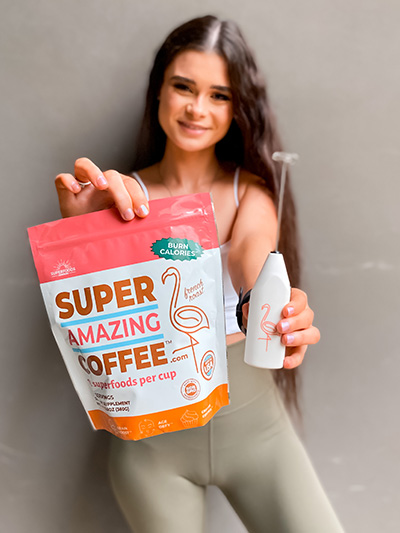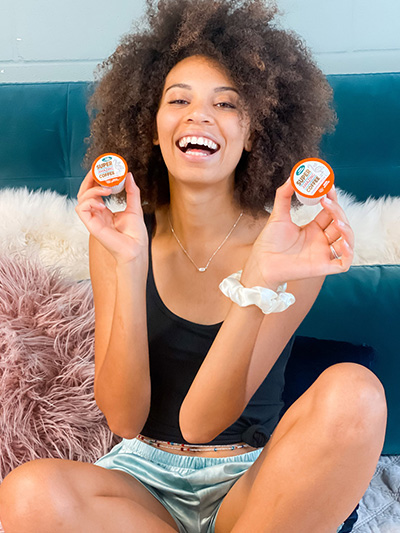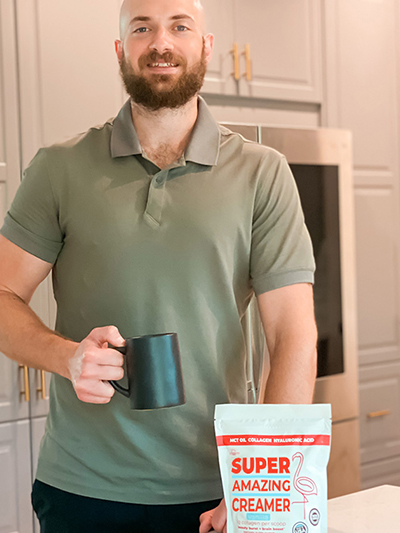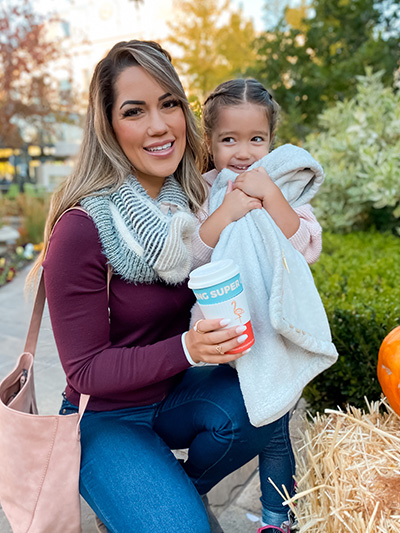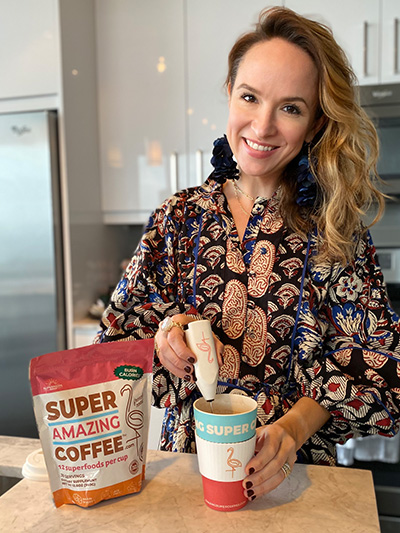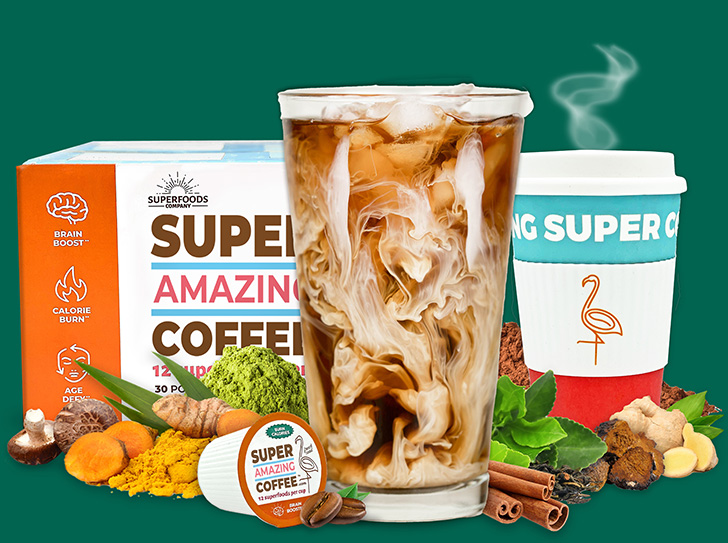 Naturally Good For You.
Super Amazing Coffee is the most delicious way to enjoy 12 superfoods that help drop-pant sizes, fight aging and boost brain power.
"My wife and I love it!"
5.0/ 5.0
Frank V. VERIFIED
Super Amazing Coffee - Ultimate Plan
My morning coffee IS my superfood supplement and that is amazing. I'm reaching my goals without having to totally change my routine. My wife and I love this coffee.
Plant-Based Superfood Ingredients
Each cup of Super Amazing Coffee is packed with 12 essential superfoods.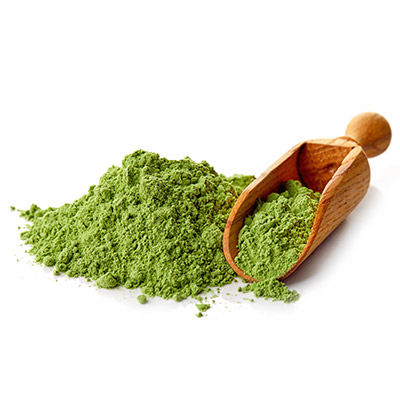 1 of 12
Matcha
Boost metabolism, control appetite, and defy aging as well as improve memory and learning abilities.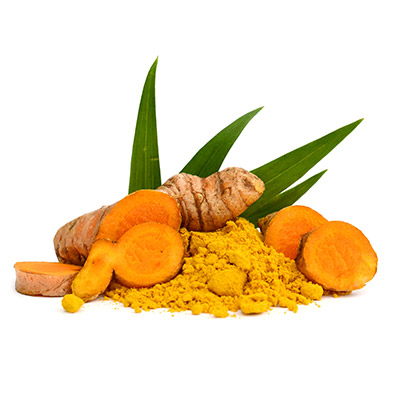 2 of 12
Turmeric
Improve the appearance of skin and reduce the signs of aging. Enhances mood and reduces inflammation.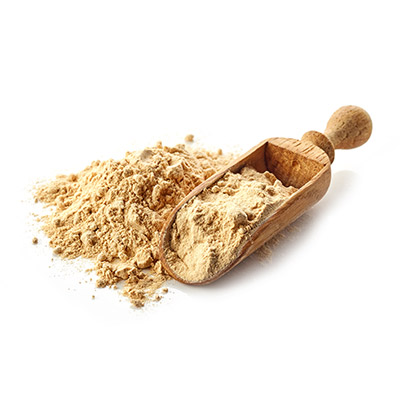 3 of 12
Maca Root
Improve brain function, enhance mood, and increase energy levels. Packed with vitamins & minerals.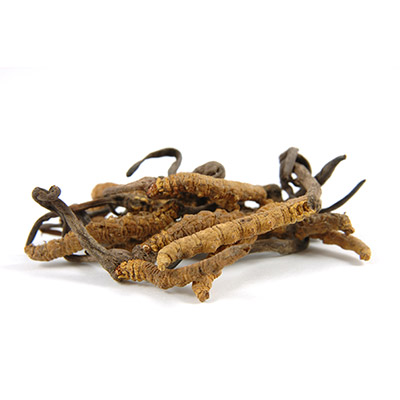 4 of 12
Cordyceps
Improve brain & memory function while improving ability to burn fat and slowing signs of aging.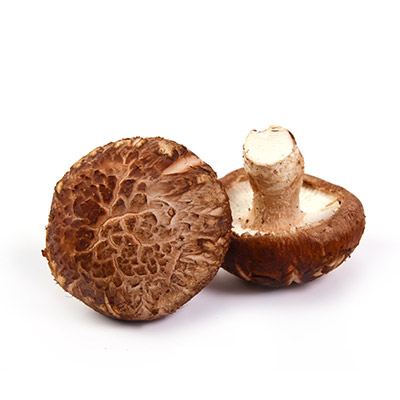 5 of 12
Shiitake
Anti-aging agent that promotes brain function, boosts immunity, and reduces inflammation.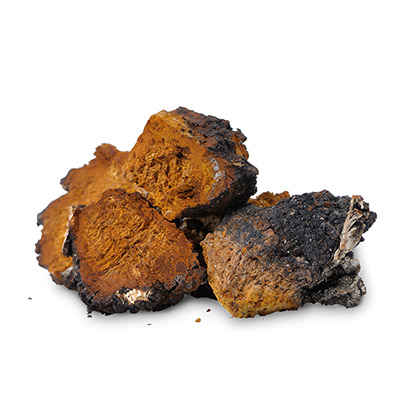 6 of 12
Chaga
Slow the aging process, boost immunity, fight inflammation, and improve cognitive function.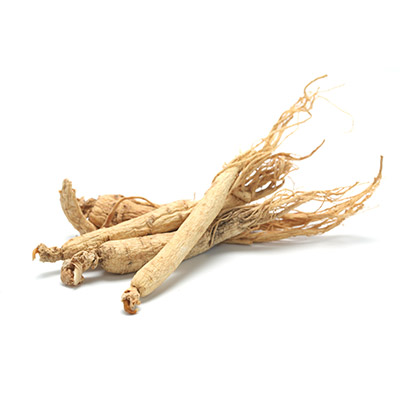 7 of 12
Ginseng
Control cravings, slow fat absorption, and boost energy & mood while stimulating metabolism.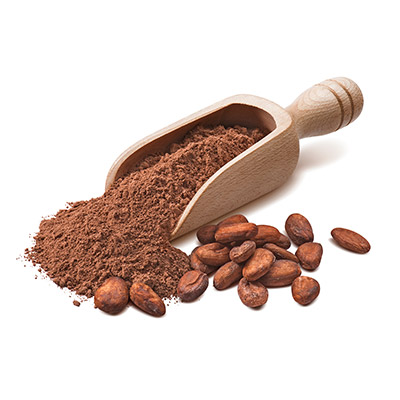 8 of 12
Cocoa
Control appetite while enhancing mood. Aids in weight loss and improves brain function.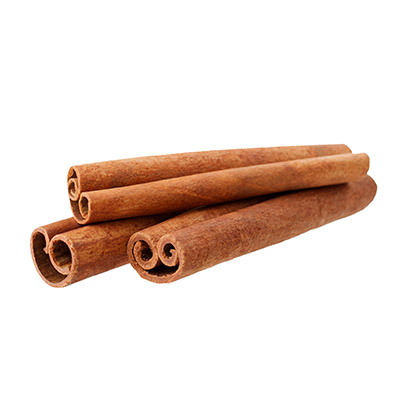 9 of 12
Cinnamon
Defy aging, boost immunity, burn calories, enhance memory, & improve cognitive skills.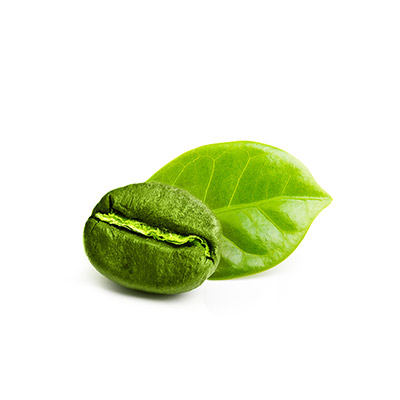 10 of 12
Green Coffee
Superfood loaded with nutrients that boost metabolism, reduce appetite, and aid in weight loss.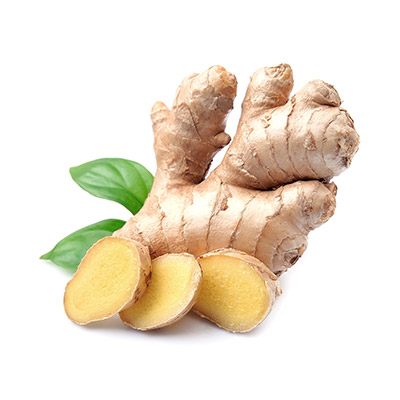 11 of 12
Ginger
Curb cravings, boost metabolism, & burn calories. Superfood that helps you look younger.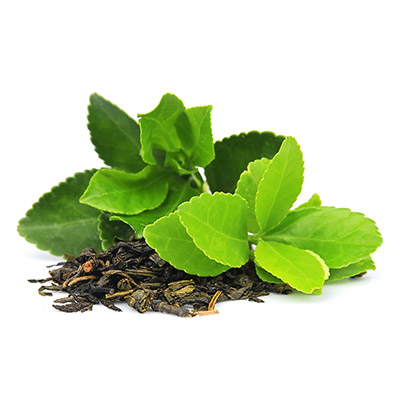 12 of 12
Green Tea
Burn calories & boost metabolism while controlling hunger & enhancing mental performance.
Amazing Benefits
The superfoods in each cup of coffee have fitness, health, performance, brain & beauty benefits.
Brain Boost
Packed with mushrooms & clean energy sources. Increase alertness, enhance focus & experience calm energy levels.
Calorie Burn
Loaded with superfoods that help you burn calories & feel great. Boost metabolism, improve performance and get results.
Age Defy
Help stop the signs of aging with superfood ingredients. Supports healthy skin, hair, and nails & helps you look your best.
Craving Control
You'll feel satisfied and able to resist temptations. Control the urge to snack in-between meals and curb late-night cravings.
Nutritionist Approved Formula
Super Amazing Coffee is made with 12 natural superfoods that help you shed weight, fight aging, enhance mental cognition and curb snacking.
"I'm down 2 pant sizes!"
5.0/ 5.0
Maria S. VERIFIED
Super Amazing Coffee - Starter Plan
I'm feeling and looking so healthy and it's because of this coffee. I have tried so many products and was so close to giving up. But now my coffee is helping me reach my goals!
What makes Super Amazing Coffee special?
Nutritionist Approved Formula
Made with 12 superfoods that are nutritionist approved for natural weight loss. It's sugar free & safe for diabetics as well as people with high blood pressure.
Safe, NON-GMO Ingredients
Proudly made in the USA at a FDA registered facility with natural, NON-GMO ingredients. It's safe and natural to use! Each coffee is packed with 12 amazing superfoods.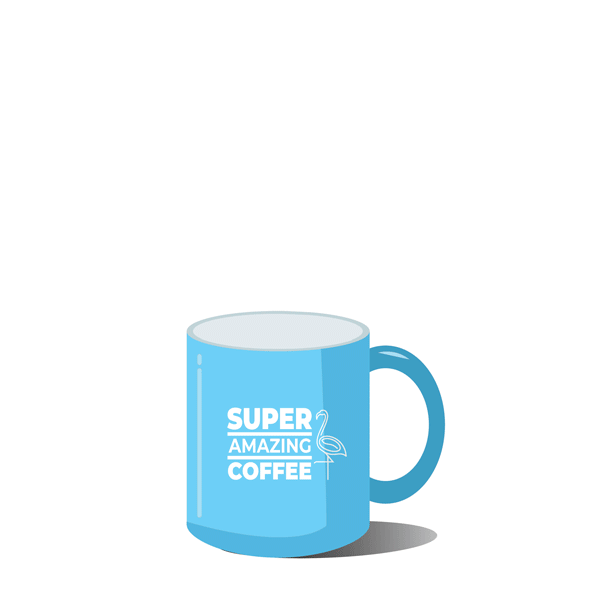 Tasty, Cocoa Flavor
Superfoods coffee is made for coffee lovers. It has a smooth and rich, nutty cocoa flavor. Customers love it! It has hints of cocoa and cinnamon and tastes great by itself or with creamer.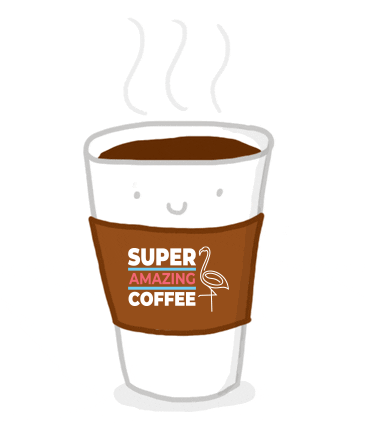 Your Daily Superfood Supply
Drink 1-3 daily to improve skin, shed pounds, boost brain function, & restore gut health. Combine with Super Amazing Coffee for maximum beauty & weight loss results.
Real Life Transformations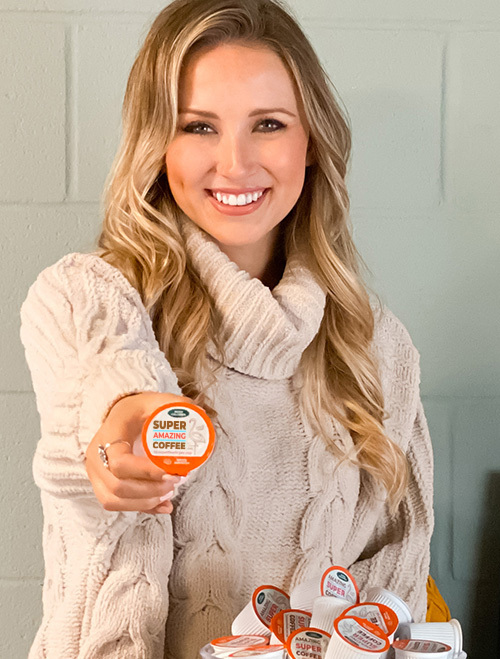 5.0 / 5.0
My fiancee and I both starting drinking Super Amazing Coffee to get ready for our wedding. I dropped 3 dress sizes just in time! Thanks Superfoods!

— Jenna G. (Texas)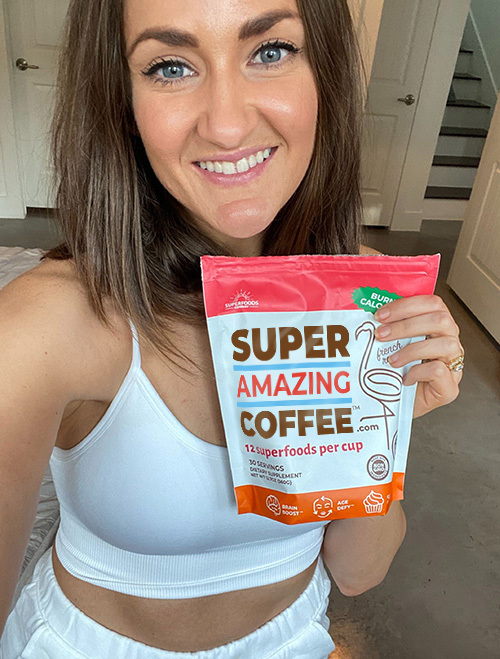 5.0 / 5.0
I've lost 18 pounds with this superfood coffee!! Hands down, best coffee ever. Obsessed with the creamer too. Very satisfied customer!!!

— Tina R. (New York)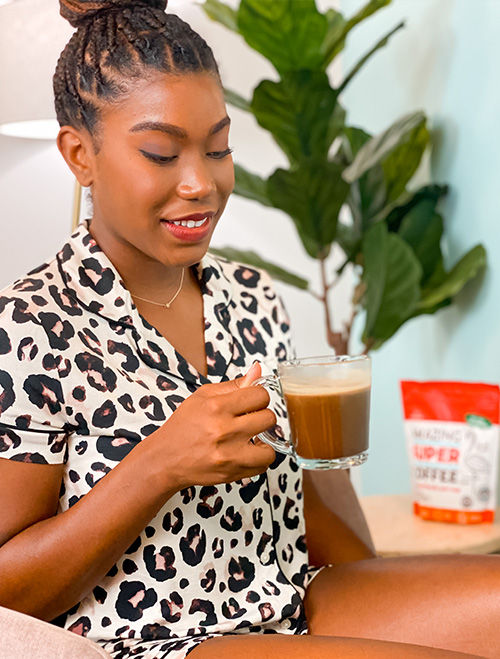 5.0 / 5.0
I'm now down 26 pounds! I never used to eat vegetables but I needed to change my diet. I love the taste of this coffee and now I'm getting so many superfoods!

— Michelle D. (California)
Gluten Free
No grains here! Super Amazing Coffee is free of wheat, barley, oats, and rye - making it safe for celiacs.
Sugar Free
Absolutely no sugar or artificial sugar added! Super Amazing Coffee is safe for those watching their sugar, and diabetic-friendly.
Soy Free
Safe for people with soy allergies. Super Amazing Coffee is 100% soy-free.
Nut Free
Not nuts about nuts? Good news: Super Amazing Coffee is totally nut-free!
Dairy Free
Super Amazing Coffee is free of all dairy products, making it safe for anyone lactose intolerant or with a dairy allergy.
Egg Free
Super Amazing Coffee is vegan and completely egg-free.
Proudly American Made.
Our superfoods products are made in the USA at a FDA registered, GMP certified facility. Each purchase helps create American jobs! Drinkware, accessories and ingredients sourced globally.
The Complete Superfood System.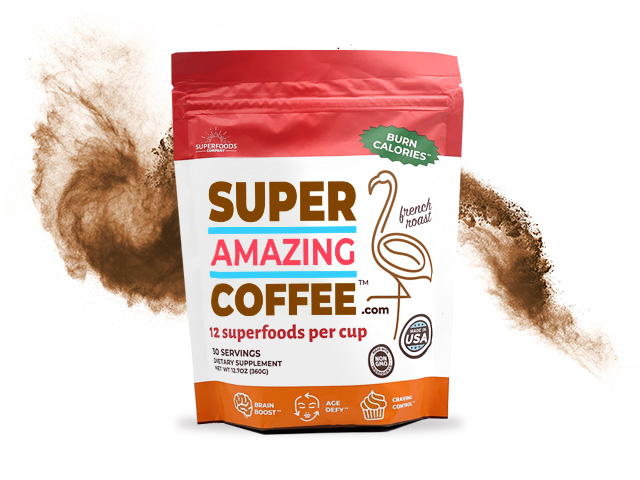 Super Amazing Coffee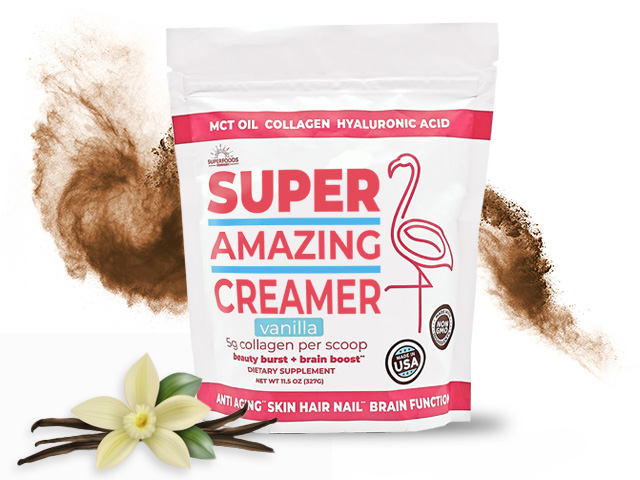 Super Amazing Creamer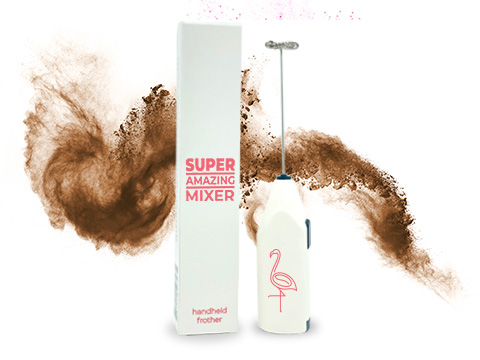 Super Amazing Mixer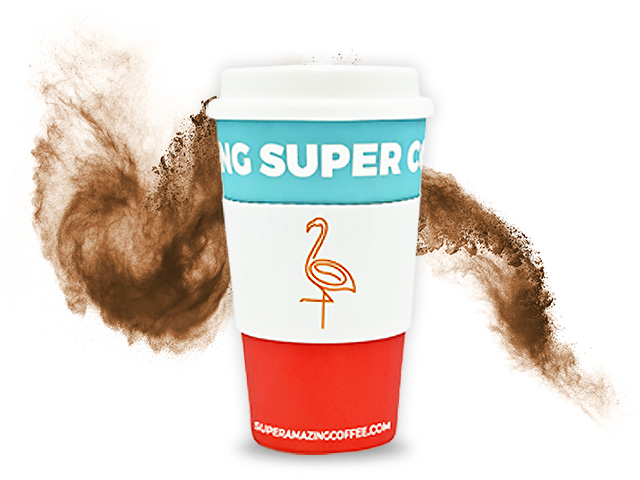 Bamboo Mug
All About Collagen Creamer
Super Amazing Creamer is packed with collagen, MCT oil and hyaluronic acid. Say hello to the perfect coffee combo.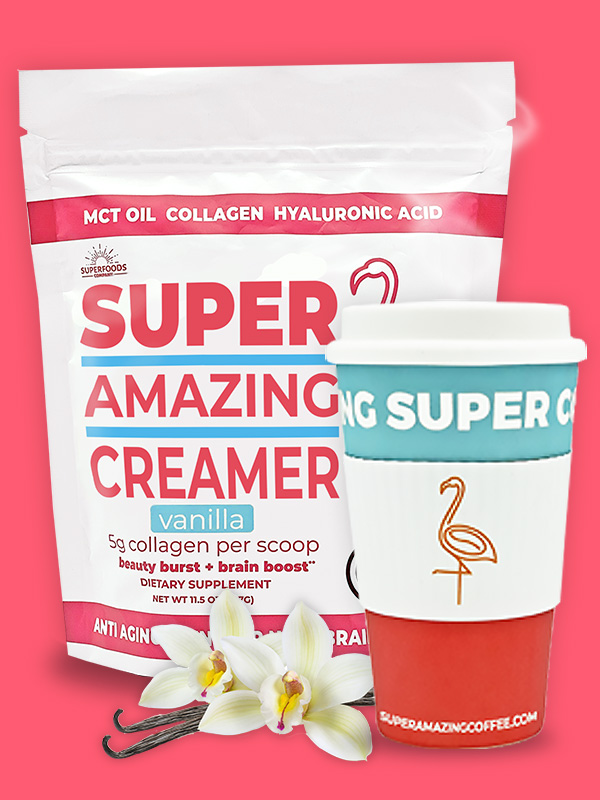 Super Amazing Creamer
French Vanilla
4.9 Rating | 3,813 Votes
The ultimate creamer for your superfoods coffee. Loaded with collagen, MCT oil and hyaluronic acid, this creamer will make your skin look and feel amazing! Use it in coffee, tea, baking, & more.
Add Creamer At Checkout!
Once you add coffee to your cart, you will be able to add creamer too!
5G Collagen
Slow the aging of your skin by reducing wrinkles and dryness. Supports healthy hair, skin, & nails.
5.5G MCT Oil
Enhance brain and memory function while boosting endurance. Great tool for controlling hunger & weight.
Hyaluronic Acid
By retaining moisture in the skin, it reduces the visibility of fine lines and wrinkles, creating a plumping effect.
Over 2,500+ 5 Star Reviews.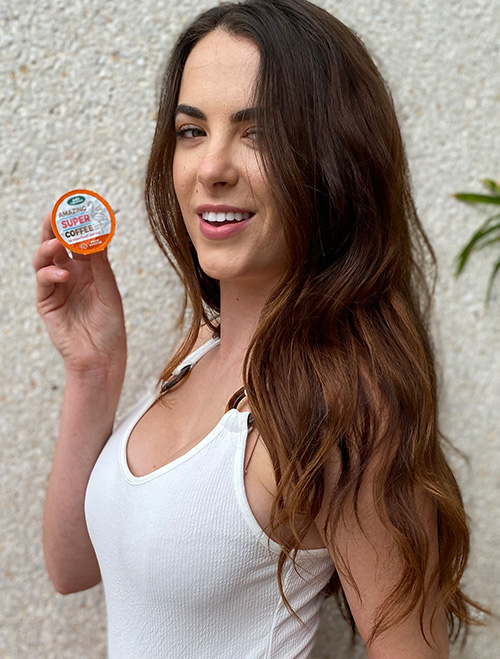 5.0 / 5.0
So delicious and it helps get rid of my cravings!! Thank you! When the lockdown started I started gaining weight, but this coffee helped me get back in shape. I've lost 18 pounds now!

— Amber S. (Arizona)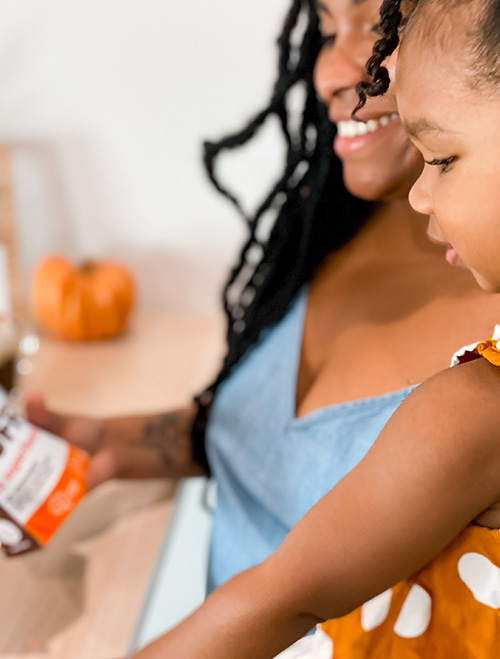 5.0 / 5.0
I was skeptical at first but after purchasing the pods the first time & then the instant package I loved both!! I love drinking superfoods in my coffee. I have so much energy and feel so alert.

— Stacey F. (Virginia)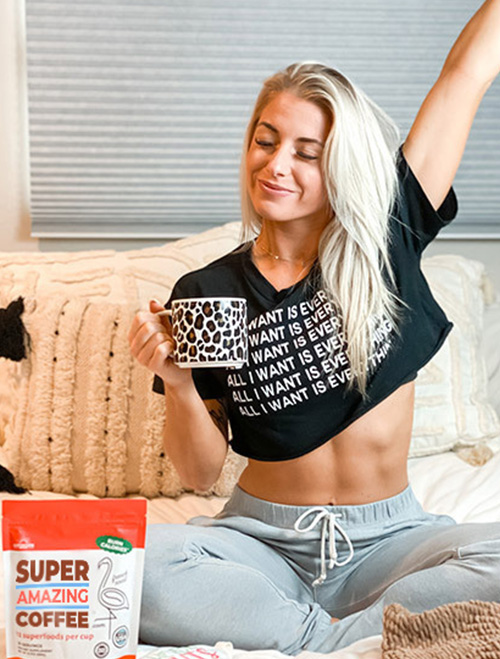 5.0 / 5.0
This coffee and creamer has helped me clear my skin and control my appetite. I lost 8 pounds in 2 weeks! It was just what I was looking for. It tastes so good!!

— Allyson T. (Tennessee)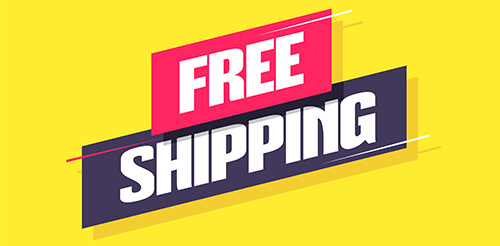 Buy Now! Delivered Fast.
Choose between Instant or Pods (Kuerig® Compatible).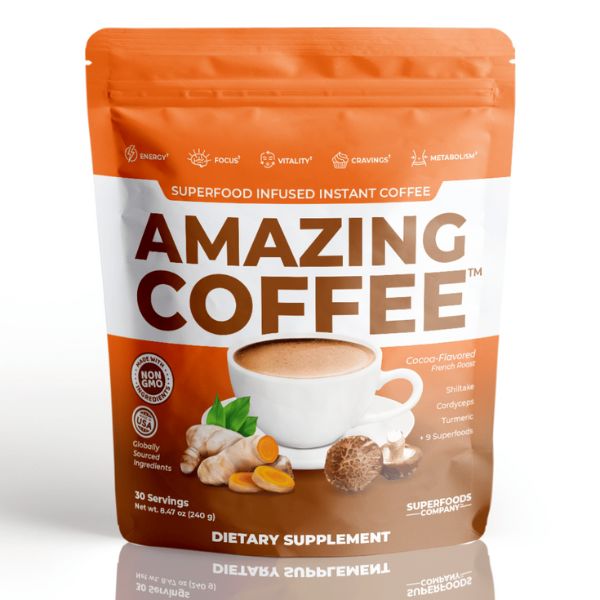 Instant Superfood Coffee
Just add hot water!
Biggest Savings With Monthly Subscriptions. Easy Cancel!
One-Time Purchase
Order As-Needed.
Save extra when you add 2 or more!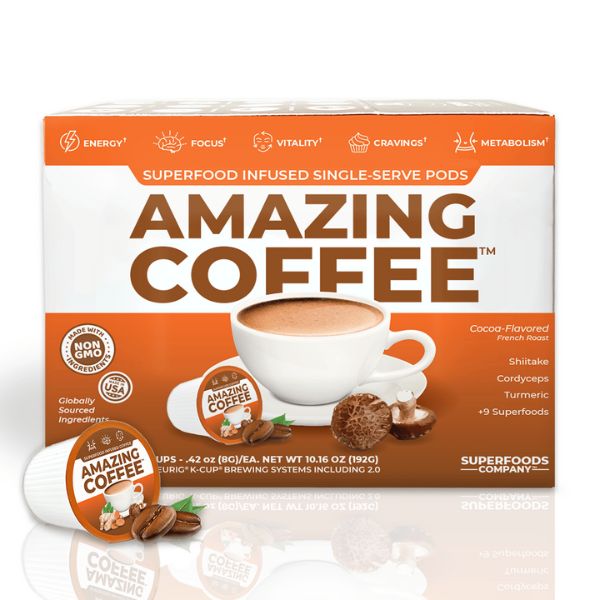 Single-Serve Pods
Keurig® Compatible
Biggest Savings With Monthly Subscriptions. Easy Cancel!
One-Time Purchase
Order As-Needed.
Save extra when you add 2 or more!
Satisfaction Guaranteed.
We offer a 30 day money-back guarantee on initial purchase.*
*See details in "policies" in the footer
Frequently Asked Questions
Super Amazing Coffee is a blend of french roast coffee and 12 superfoods. It's available in pods and in instant variety. Super Amazing Coffee helps you lose weight, boost brain power, fight aging and curb cravings.
No! That's why we have 2 versions available. The instant version just needs hot water and has all the same benefits.
Absolutely! Super Amazing Coffee is unique in that it gives you a boost and it packs a healthy serving of 12 superfood ingredients.
It's the perfect complement to coffee. Super Amazing Creamer has a delicious french vanilla flavor and is packed with collagen, MCT oil, and hyaluronic acid.
Absolutely! We have so many men, women, & couples who love using Super Amazing Coffee and Super Amazing Creamer.
Yes, Super Amazing Coffee has 165mg of caffeine per serving. It's enough so that coffee lovers will still get a kick! The caffeine comes from green coffee and green tea which both provide a calm and steady energy!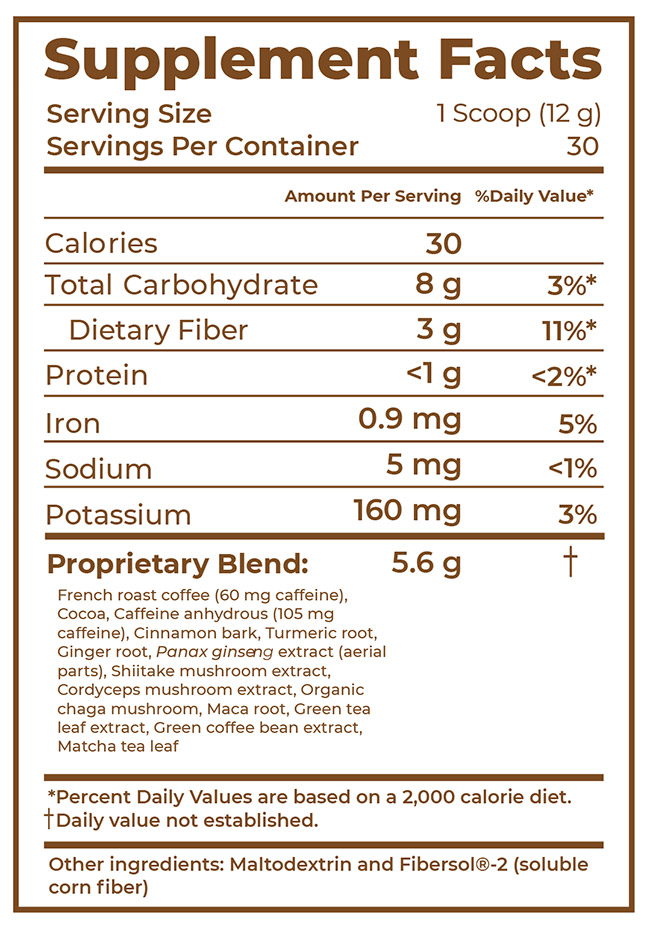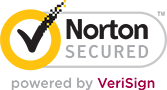 Customer Reviews
See the latest reviews from customers who purchased Super Amazing Coffee.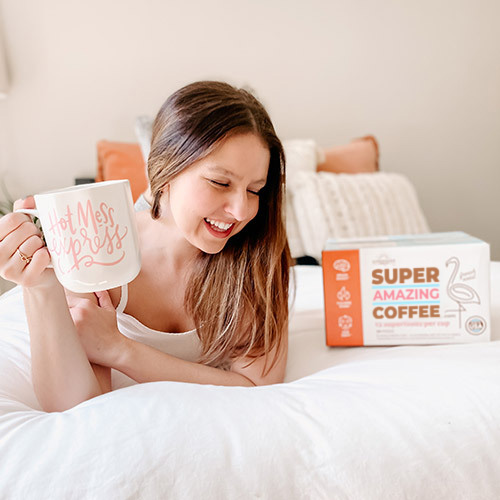 5.0 / 5.0
I can't believe the results I've gotten! I'm reaching my health goals, just from drinking this coffee in the morning! I'm hooked and obsessed with the creamer too. Highly recommend!!

— Jessica S. (Florida)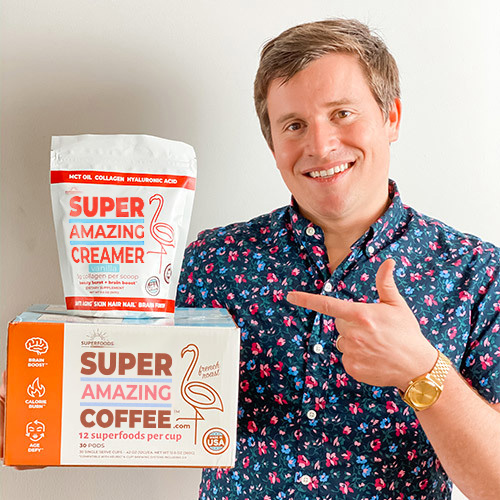 5.0 / 5.0
This coffee helps me stay on track with my meal plan, and it tastes incredible. I'm feeling amazing! I used to crave the snacks and get off track, but now I'm craving veggies instead of chips.

— Paul H. (California)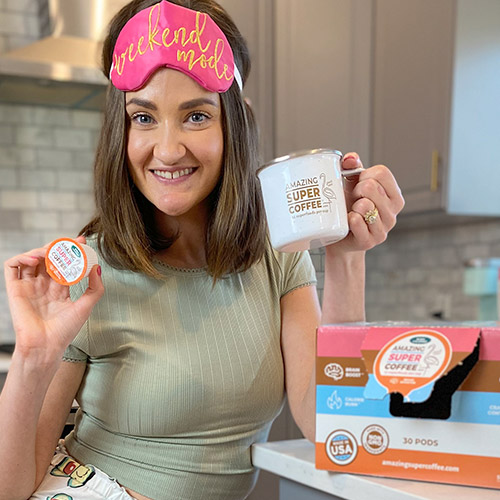 5.0 / 5.0
Obsessed with this coffee. It tastes amazing and I'm finally seeing the healthy results I've been trying to see for years. Diets don't work. This coffee does.

— Tina R. (Texas)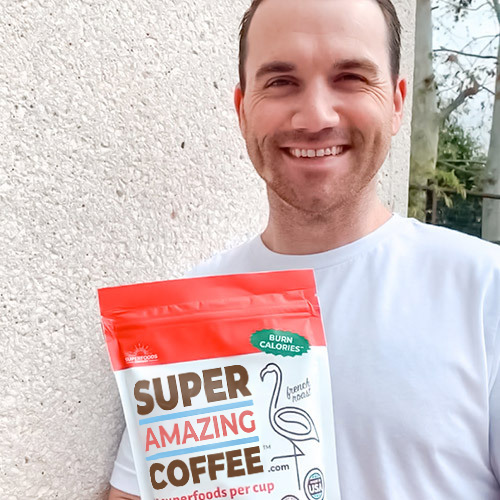 5.0 / 5.0
My morning coffee IS my superfood supplement and that is amazing. I'm reaching my goals without having to totally change my routine. My wife and I love this coffee.

— Frank V. (New Jersey)