Yay! You just made the best purchase and you're ready to kickstart your healthy journey with Skinnytabs. So, now what? Find out everything you need to know about using Skinnytabs & maximizing your results here.
The Ultimate Guide Starts Here
If you're anything like me, trying to balance work, a social life, workouts & everything in-between… Life can be pretty overwhelming. I totally get it which is why I created the Ultimate Guide for Skinnytabs Detox - to make things WAY easier for you. Being healthy shouldn't be complicated… so, let's get right to it!
Skinnytabs are an all-natural supplement made with 15 superfood ingredients. They will help boost metabolism, burn fat, increase energy, reduce bloating & inflammation and fight cravings. They are designed to be safe and effective for results now & for your health long-term. #WeAreObsessed!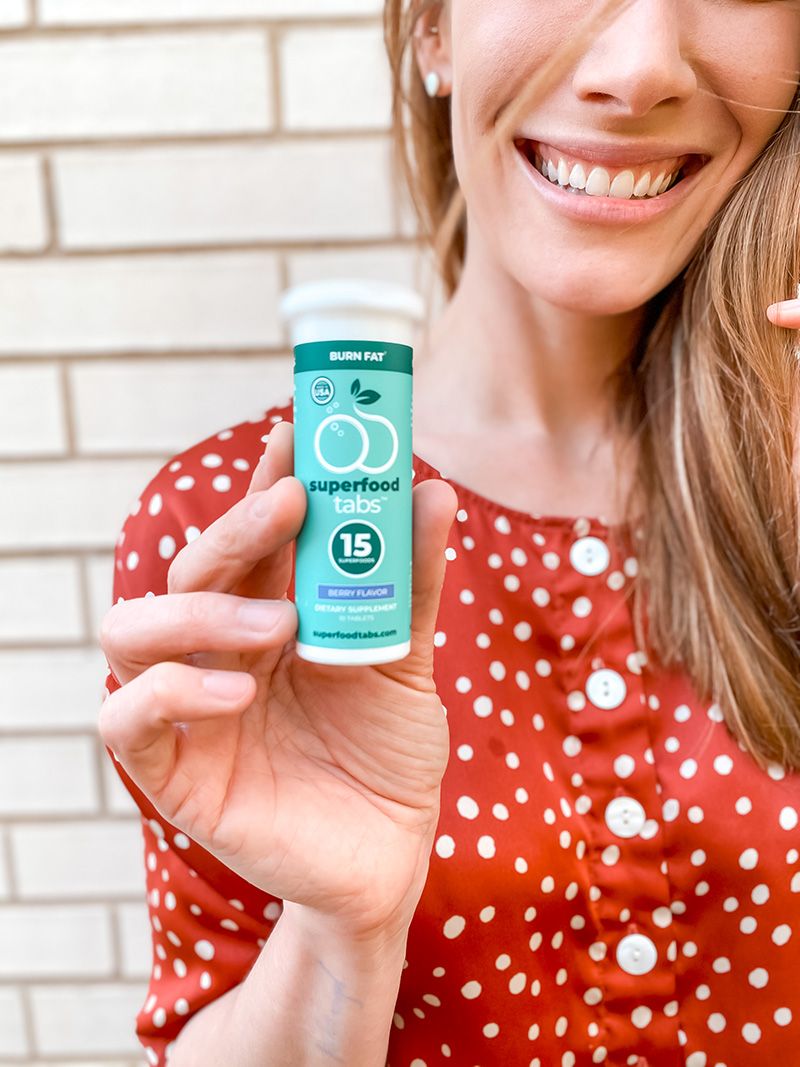 Skinnytabs act as a natural detox by cleansing and removing waste through your digestive tract. Skinnytabs need to be consumed with plenty of water so your body can digest and absorb the nutrients from the 15 superfood ingredients. By incorporating Skinnytabs to your daily routine, you can make a huge impact on your overall gut health.
Step 1: Drop 1 tablet into 16-20 oz. of water.
I really suggest 20 ounces of water or more! When you are detoxing you need as much water as possible.
Step 2: Allow the tablet to dissolve (2-3 minutes).
Keep in mind, this time can vary. The colder the water is, the slower it will dissolve. I like mine in ice cold water and it can take up to 10 minutes to dissolve.
Step 3: Drink Your Skinnytabs!
It's that easy. When you first start Skinnytabs, you may need to get used to the cleanse. In fact, sometimes your body may even reject things that are good for you. That's a sign you really need to detox. You can use these tips to help enhance the flavor.
That's it! Easy as 1, 2, 3! Yay!
Want to view the 15-superfood ingredients & supplement facts? Click Here
When is the best time to drink?
There are a few times throughout the day that you can enjoy your Skinnytabs. Check them out below!
How many should I drink each day?
We have customers who drink up to 3 tablets a day! We do recommend new customers starting with 1 tablet until they get adjusted to our product. Check out the difference between drinking 1 tablet versus 3 below!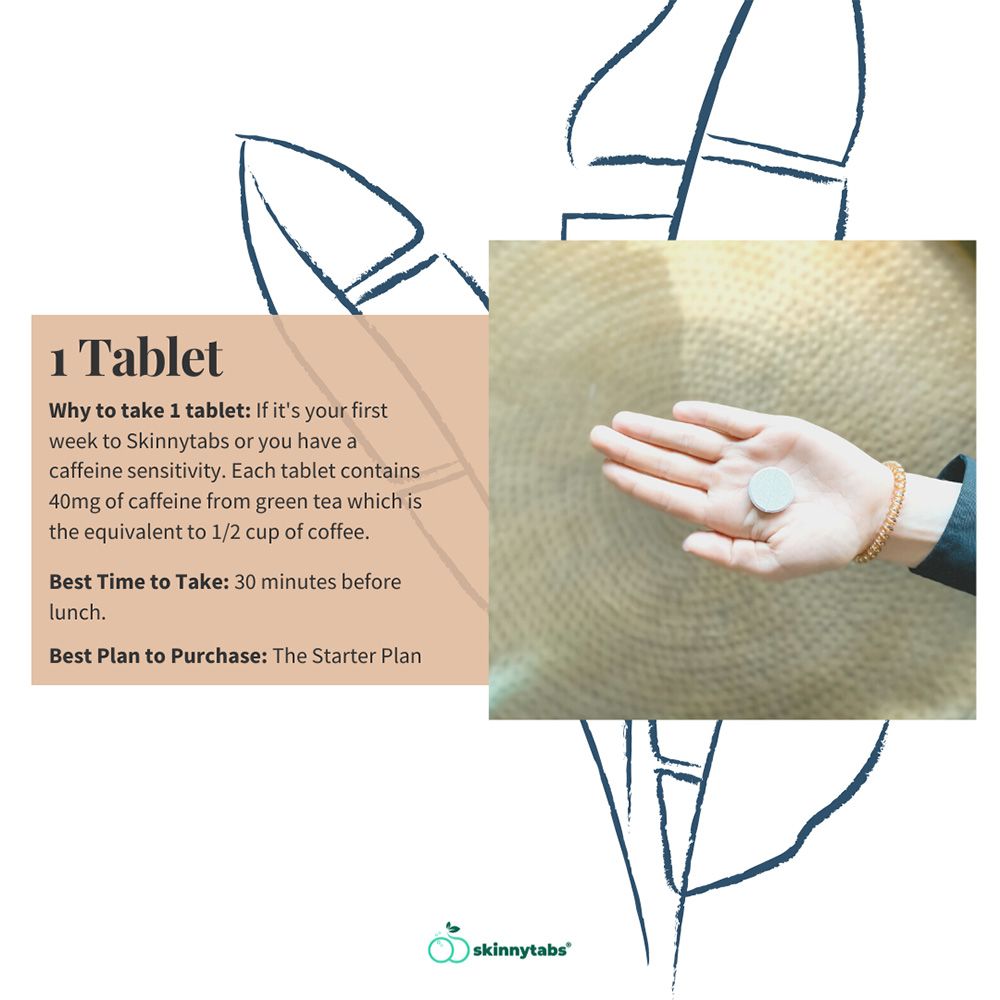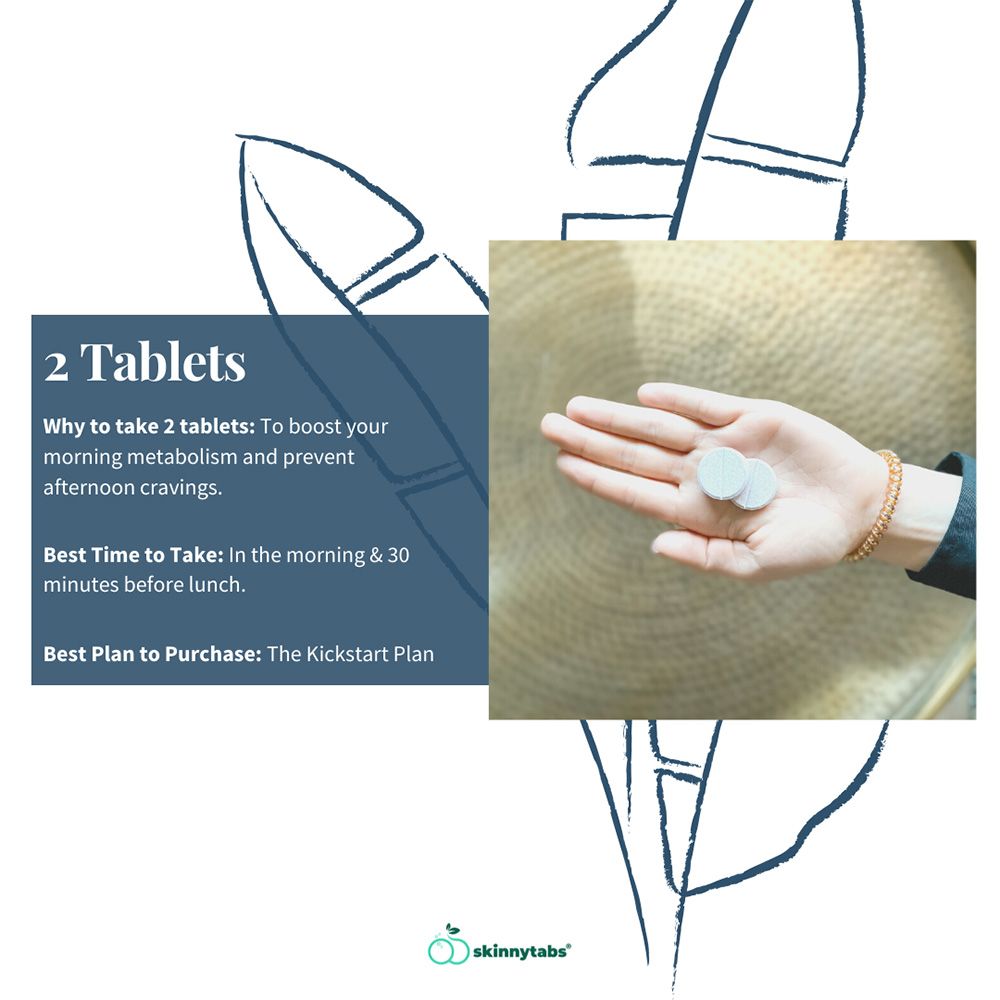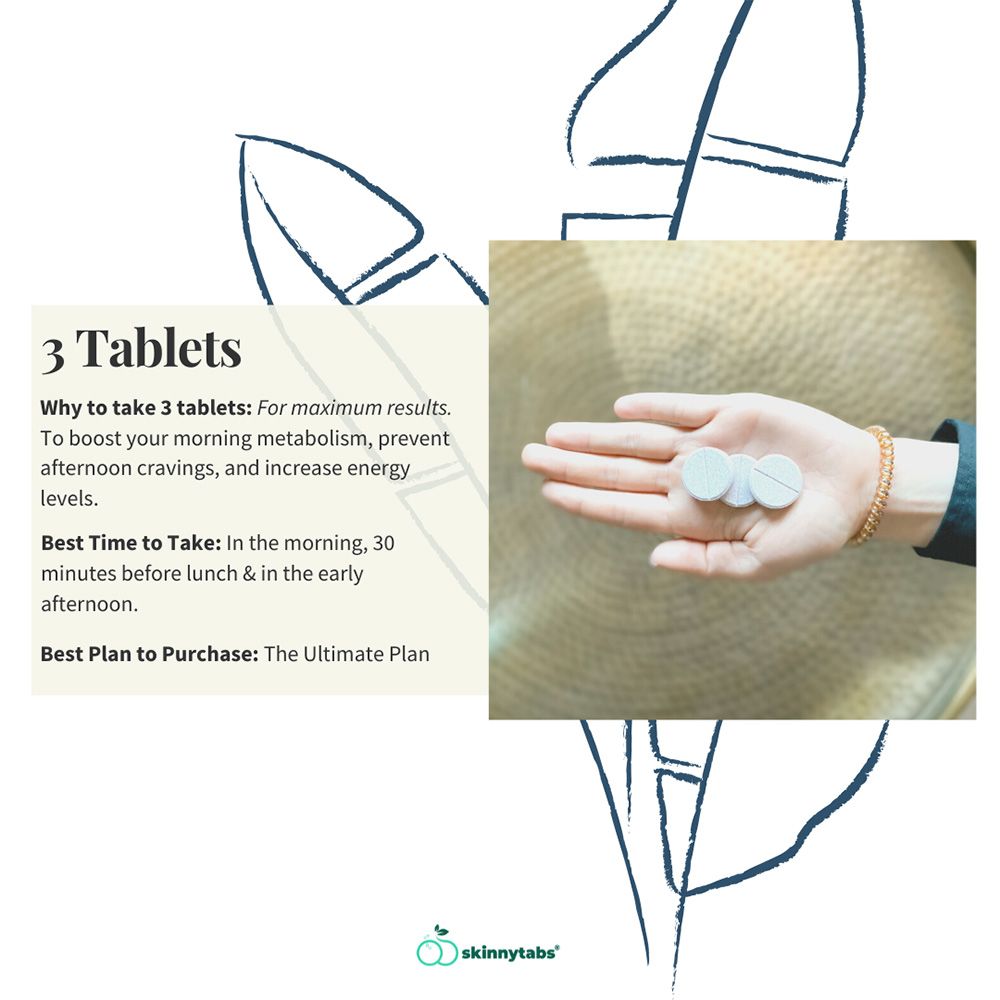 I personally started with 1 tablet / day for the first month & then moved up to 2! I drink the first one as soon as I wake up and the second one mid-afternoon! The results have been AMAZING!!
Do I have to drink it quickly?
Nope! You can sip your Skinnytabs at a normal rate like any other drink! :)
What does it taste like?
Skinnytabs have a tasty, refreshing berry flavor. 🥰 Customers love them!
Need a little help enhancing the flavor?
No problem! Read click on the image below: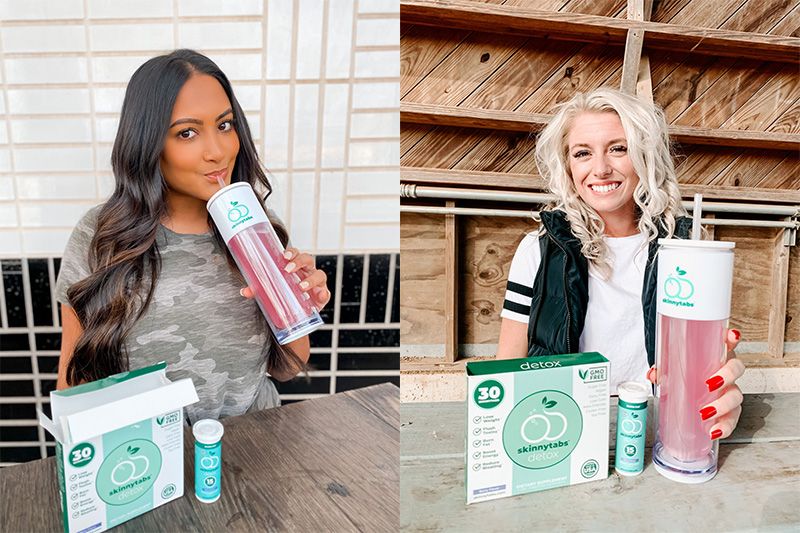 Skinnytabs are not carbonated! 🤩 The "fizzy" action happens as the tablet dissolves. They were designed this way so when the tablet is dissolving, the 15 superfood ingredients can separate and be left in the water for you to properly consume. Genius, am I right?!
Are they a meal replacement? What should I eat with it?
Each tablet contains only 5 calories, so they're not a meal replacement. We encourage drinking Skinnytabs 30 minutes before a meal (preferably on an empty stomach) so your body can absorb and digest all the goodness from the 15 superfood ingredients!
I believe Skinnytabs are the BEST addition to a healthy lifestyle! For maximum results, they should be used in conjunction with a healthy diet and regular exercise.
Nutrition Tips:
Try to skip any processed foods.
Cut out added sugar.
Stick to fresh produce.
Choose lean proteins, healthy fats & complex carbs.
Stick to your meal prep.
Will it make me poop? Does it contain a laxative?
Absolutely not! Unlike other detoxes that contain laxatives, Skinnytabs are 100% laxative free. That means you get all the benefits without the side effects. YAS!!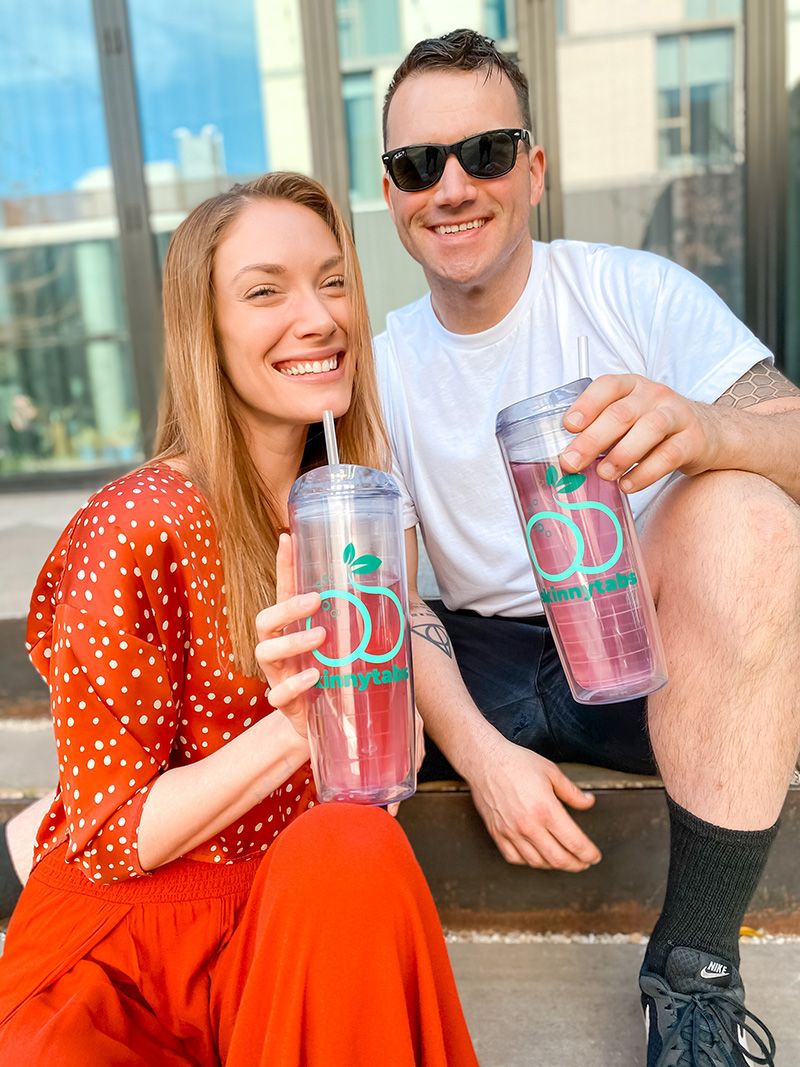 So, there you have it! Everything you need to know about starting Skinnytabs Detox. I seriously can't WAIT to hear about your progress & see your results! You're going to crush it, babe!
You can always contact us with more questions anytime you want by visiting superfoodscompany.com/contact-us/.